Sorry, it took me a while to make a character. I was a bit torn between the Macross and Code Geass RP.
Member Username
: Akki Rei
Email
: akki_rei@yahoo.com
Player Character Name
: Ashton Curtis
Gender
: Male
Nationality
: Britannian
Birthplace
: Britannian Empire Mainland
Alignment
: Lawful Neutral
Height
: 6'0" ft
Weight
: 207 lbs
Eye Color
: Dark Green
Hair Color
: Black
Handedness
: Right
Age
: 21
Physical Description
: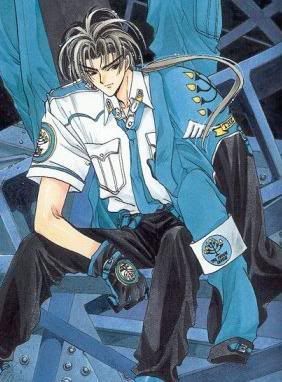 Relationships
:
Alexander Curtis
(Age: 53) – Father: Alexander loves Ashton dearly and has always given Ashton everything he ever asked for except his time. Alexander was never a presence in Ashton's life, but Alexander himself disagrees and would argue with Ashton time and again about how he is running the house and his family to an older Ashton. At the end of these arguments, Alexander would have lost himself in a fit a rage, have grabbed the nearest object to beaten Ashton, and eventually passed out after the incident has passed without remembering he did it.
Kathryn Taylor-Curtis
(Age: 51) – Mother: Kathryn loves Ashton dearly, dotes on him, and practically kisses the ground that he walks on. She has always supported in whatever he's done and that means good or bad, legal or illegal. She never found heart to ever discipline him or punish him except in his academics. Kathryn was always stern when it came to Ashton's academics and when he was wrong in them.
Alcardi Curtis
(Age: 27) – Brother (Also closest friend): Alcardi is Ashton's albinistic, older brother and has acted more like a normal parent around him then his actual parents and therefore looks up to him the most. Alcardi was the one who taught him morals and to treat people as equals. Morale disciplines and patients that Ashton has ever gained were bestowed upon him by his brother. Ashton dreams of growing up like his brother. This dream is especially stronger now that Alcardi is dead.
Basic Personality
:
Ashton is a very by-the-book, rules-dictate-life type of person, but if the rules of others fit within his code of honor that he has set out for himself than he's quite the opposite. Since the death of his brother, Alcardi, Ashton no longer smiles or feels the need to smile. Reports have said that if Alcardi had followed protocol than he would be alive today. Ashton sees it that since Alcardi did not follow protocol; Alcardi is a hero among heroes. The emptiness that Ashton now feels with Alcardi being gone is filled with the anxiety of death. Ashton feels he is living in his brother shadow and believes that Alcardi has died with a legacy to live up to. Having reached this point in his life, Ashton does not feel accomplished and wants to dedicate his life doing what he knew was right and live long enough to feel that sense of accomplishment.
Ashton does not have inner peace within his soul. He's conflicted as he has always reflected on his decision after battles and missions, but if it meant saving others over killing the enemy than he would save lives. He doesn't believe in injustice in any form and that death on the battlefield is not murder, but a honorable battle between opponents that have consented that their life thrown down and wagered on this bet paid in blood. As honorable as Ashton wants to be, if he feels that he is losing as he welcomes help with open arms or find a way to fight dirty, which is hardly the case as he enters the battle with an intensity that is feared even among his comrades and a motto: "Take everything, give them nothing".
Background Story
:
For the longest time Alexander and Kathryn Curtis have made many attempts to have a child to call their own, but no matter what they tried, the results were nothing. Alexander, an accomplished genetic researcher and proud noble of the Britannian Empire, hid his frustration in his research while Kathryn grew depressed, sitting in and around their mansion. In order to lift Kathryn's spirits, their most trusted servant took her on a drive out into the city and when she returned home, she held in her arm a young albino baby who they named Alcardi. Alcardi grew to be the child they dreamed they would have, but after years of having him, they had a different dream; the dream to have a child that reflected their image.
After an additional year, both Alexander and Kathryn had miraculously succeeded and Kathryn became pregnant. Within a year of eating healthy, craving into her food craving, doctor check-up, and taking classes for her pregnancy, Kathryn and Alexander were gifted with a baby boy who they named Ashton.
Ashton throughout his early infancy was raised and taken care of by his mother, but once he became a year old, his mother handed him over to a nanny. This nanny, Shelley and her husband, Hayden were also in charge of caring for Alcardi, who had long since been ignored by his parents once Ashton was born. It was these servants that taught Alcardi that to be a significant part in someone's life was the most rewarding and so Alcardi promised the two servants that he would care for Ashton as much as they have cared for the both of them. Ashton grew up learning how to crawl and walk at a very early age so he could always be with his brother. He was also taught to read and write by Shelley at the age of 3 and began other lesson like horsemanship and fencing from his brother at the age of 5. Formal lessons in those areas would also come in classes later on in life, but he would be placed in a higher level.
Ashton also poses a number of small mechanical toys that Alcardi and Hayden has made for him. His favorite is a robot that Alcardi made. Also at a young age, Ashton became interested in dancing. First, he was interested in partnered dancing going from waltz, ballroom to swing until finally he joined a small dance crew under the supervision of his care takes and/or Alcardi. This interest grew when the servants would gather around in celebration of birthdays or events that would only happen when both master and mistress were away. At 7 years old, Ashton had begun taking tumbling, gymnastics, and acrobatic classes to mold his body into what he could perceived as a dancer. He would also join Alcardi on his morning runs or swims and his every other evening weight lifting.
By the age of 8, Alexander and Kathryn re-entered Ashton's life and Alcardi left to start in a military academy. By this time, Ashton did not care for his parents whether they approved of him or not since he rarely saw them, but he was mindful since Alcardi taught him to be that way. Yet Ashton's parents didn't seem to realize this and just treated Ashton as though they had been taking care of him all their life without the presence of servants. Ashton continued to live this way. He continued to tolerate his parents, keeping himself physically fit, and spending more times with his former nanny and her husband when Alcardi was away. Hearing Alcardi going through the academy and able to be knighted at the age of 18 years old, inspired Ashton. At that point, Ashton decided that he wanted to be as great as his brother Alcardi no matter what it took.
Ashton continued his street dancing, physical training, and was able to coerce his father in letting him take boxing classes. He balanced his eating habits and somehow able to keep up with his studying, receiving high marks especially with his mother helping/hounding him about it. Once he entered the military academy, a year earlier than Alcardi, Ashton instantly became top of his class. During his first years in the academy, he was selected out of his senior peers to test pilot a couple of prototype Knightmares for his athletic ability and his quick comprehension of the controls. Many of the engineers couldn't believe how much Ashton was able to put their knightmares through. Ashton would pilot the prototype pass its limits. His skills did not go unnoticed. During the end of his second year in the academy, he was already receiving assignments. By the time of his graduation, Ashton was soon to be knighted as one of the majesty's guards. Sometime during Ashton academy years, Alcardi had been knighted into the Knights of the Round.
As knight and escort to one of his majesty's children, he had an assignment to escort her from one side of the nation to a retreat at in the other side of the nation. During this time was the greatest turning point of his life. Alcardi and his parents were at an awards ceremony that was being broadcasting live. Alcardi was to receive high honors for his diligent and valiant services to the empire, but a rebel attack on the ceremony did not see to Alcardi receiving his award. The broadcast had ended just as the rebel army had pronounced their presence. Just at this point another rebel army began attacking the caravan which he was escorting. Enraged at not helping his brother and those they had planned this attack, Ashton's merciless persona erupted.
By the end of these events, it was clear that Ashton showed a higher skill of piloting a Knightmare than ever before and his duty to the crowd when he used his knightmare to shield his escort from incoming fire. For Alcardi and his parents ended up differently. His parents did live only by the fact that they had sent Shelley and Hayden in their place, disguised as them. Shelley and Hayden though died at the scene. It was also known that Alcardi died in battle, but his death was not celebrated as highly as Ashton would have liked.
To this day, Ashton does not know that Alcardi Curtis is actually his adopted brother.
Character Attributes
:
IQ
: 16 (+ 3) = 19
ME
: 7 (+ 2) = 9
MA
: 6
PS
: 9 (+ 2 + 1) = 12
PP
: 11 (+ 5 + 3 + 1) = 20
PE
: 10 (+ 3 + 1) = 14
PB
: 7 (+ 5) = 12
SPD
: 8 (+ 3) = 11
HP: 54 (+8 per level)
Level: 1
Experience: 0
Britannian Knight MOSMOS Skills:
Pilot Knightmare Frame (+15%)
Knightmare Combat: RPI-13 Sutherland
Tactics: Knightmare (+20%)
Weapons Systems, Knightmare (+10%)
Read Sensory Equipment (+10%)
Navigation, Sea (+10%)
Navigation, Air (+10%)
Navigation, Land (+10%)
EVA (+10%)
Hand-To-Hand: Martial Art (For one 'Other' Skill) - Or is this rule not applicable?
Other Skills:
Communications: Radio Basic
Computer Related: Computer Operations
Domestic/Cultural: Dance
Electrical: Basic Electronics and Knightmare Electronics only
Espionage: None
Mechanical: Basic, Automobile, Aircraft, Knightmare Mechanics, Motorcycle
Medical: First Aid only
Military: Military Intelligence (+10%)
Physical: Fencing, Acrobatics, Gymnastics, Athletics, Boxing
Pilot: Horsemanship, Jet Fighter+10%)
Pilot Related: Any (+10%)
Rogue: None
Science: Math Basic and Physics Basic only
Technical: Any
Weapon Proficiency: Sword, Pistols
Wilderness: Wilderness Survival only